Overview

WELLINGTON™ RETRO MUSIC SYSTEM
Combine the charm of yesterday with the technology of today. Backed by over 100 years of manufacturing high-quality audio products, Electrohome has paired the design of vintage record players with the features of modern stereo systems. Play your entire music library with this 4-in-1 classic turntable system.

Top-Notch Craftsmanship & Acoustic Design Result in Superior Sound Performance
Upholding Electrohome's strong reputation for high quality, each unit is handcrafted with real wood and has a rich mahogany finish. Audio components such as the conical-shaped sapphire tipped needle, dual full range dynamic speakers, and acoustically designed cabinet give the Wellington Music System room filling sound that creates a warm and crisp listening experience. With the natural sound of vinyl, you'll hear details that you've never heard before.

Enjoy an Amazing Audio Journey
Sit back and relax while you listen to your record collection, CD's, AM/FM radio, MP3's, and even connect your smartphone or tablet. Enjoy your - and dad's - vinyl collection with this fully automatic belt-driven turntable that spins 7, 10 or 12" records at speeds of 331/3, 45 & 78 RPM. For private listening, simply connect your headphones and drift away into the world of vinyl without disturbing a soul.

Transfer your Vinyl Music to USB
In addition to all of the listening options, you can easily convert your record and CD collection to MP3 so you can take your favorite music everywhere you go. Fit every warm natural tone of your vinyl collection on a portable USB drive - no PC required.

Authentic Nostalgic Design
Not only is this retro system great for entertainment, the old-fashioned look also makes it a great addition to your home. Fine details like the amber lighting on the analog tuning dial, rotary control knob and antiqued patina faceplate will complement your decor perfectly, and will bring you back to a time when just a penny would give you a melody and a dance.
Specifications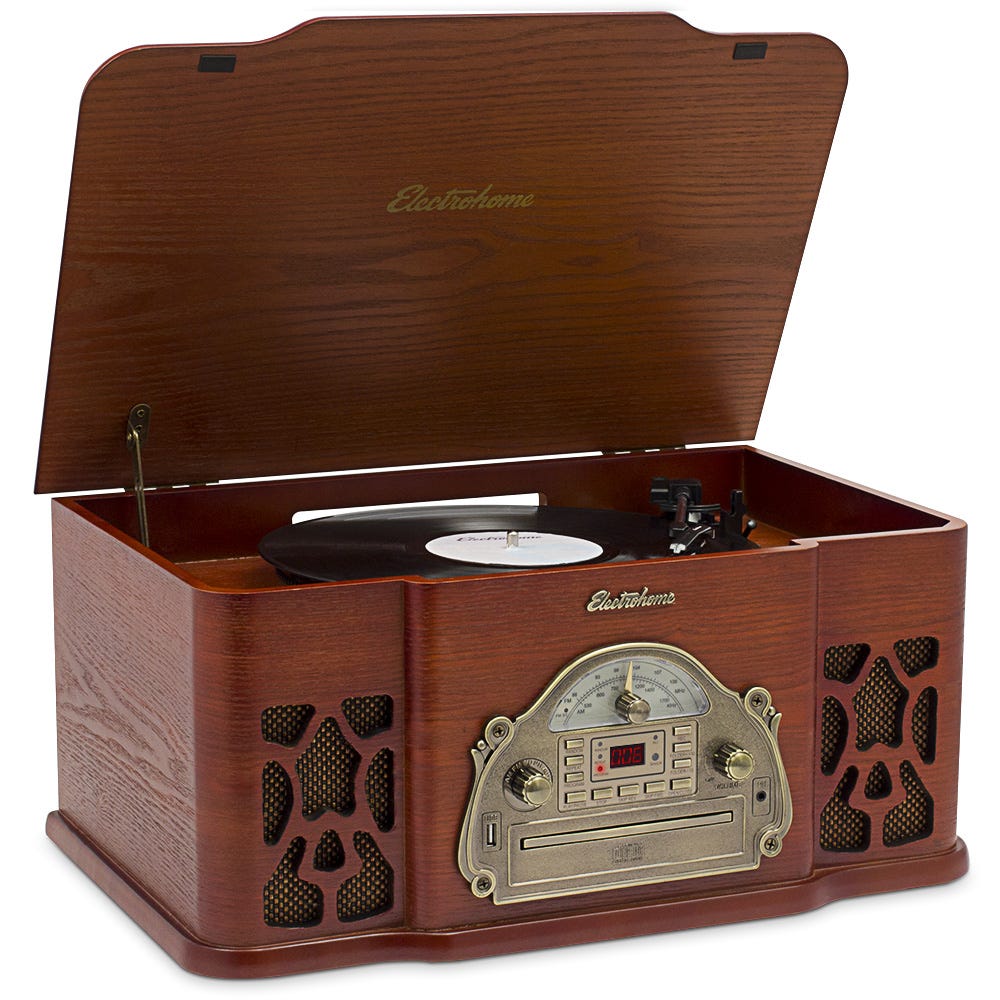 | | |
| --- | --- |
| Unit Color | Mahogany |
| Finish | Real Wood Veneer |
| Construction Material | MDF (medium density fiberboard) |
| Record Speeds | 33, 45, 78 |
| Platter | Plastic |
| Record Auto Return Arm Adjustment | Yes |
| Frequency Range (FM) | 88-108 mHz |
| Frequency Range (AM) | 530-1710 kHz |
| USB Recording | Yes (128 kbps) |
| Speaker Size | 2x 5W (3") 8 Ohms |
| Amplifier Power | 19 watts |
| Power EPS | Internal Power Supply |
| Power Consumption | 19 watts |
| Dimensions | 19.29" x 12.6" x 9.1" |
| Unit Weight | 16.3lbs |
| Certifications | ICES, FCC Certified, ETL/CETL |
| UPC | 871363017178 |
| What's Included | Wellington Retro Music SystemRemote Control45 Record AdapterInstruction Manual1 Year WarrantyLifetime Customer Support |
Customer Reviews
Rodney G

February 5, 2019

Florida, United States

We purchased for a Christmas present in 2017. The turntable immediately stopped working (at Christmas) and I returned it for repair. Less than a year later, the CD player is skipping on all CDs. It is not worth returning at my expense. Good sound if it works. I cannot recommend.

Rodney G

2

AK

January 21, 2019

Ontario, Canada

This system looks nice but only some of the features worked from the beginning. We haven't had any luck using the USB recording, and we rarely are able to listen to CDs. The CD player basically ejects CDs almost every time we try to load one. We're very disappointed with these components failing to work and the overall poor quality.

AK

2

Linda R

December 27, 2018

Florida, United States

Plays beautifully. Tone is excellent. Arrived in time for Christmas and in mint condition. Very happy .

Linda R

5

Matt C

December 10, 2018

Arizona, United States

Looks great, and is an awesome piece for our living room. Haven't used it a ton yet, but everything works perfectly so far!

Matt C

5

Kira W

October 22, 2018

Colorado, United States

Looks great, worked perfectly out of the box. And it played our old records flawlessly. The controls do require reading the manual to figure out however.

Kira W

5

Wanaasa

July 22, 2018

Good - Verified Store

Wanaasa

5

George A

July 12, 2018

It was a great gift for my wife. - Verified Store

George A

5

Ann S

June 28, 2018

I bought this for my granddaughter for Christmas. I personally have not had the opportunity to hear it's sound but she loves it and says it sounds wonderful. - Verified Store

Ann S

5

K. B

June 28, 2018

Came broken. Had to return. - Verified Store

K. B

1

alexandre g

June 27, 2018

Sound of the speaker are weak for thé vynil - Verified Store

alexandre g

3

babtras

June 25, 2018

Stylish and functional. Kids are getting treated with old Disney story records at bedtime. - Verified Store

babtras

5

Amazon Customer

June 9, 2018

Good to have as it plays all formats - Verified Store

Amazon Customer

5

drew C

June 4, 2018

Arrived with damage to the record lid and would not turn on. Returned immediately.

DO NOT BUY THIS - Verified Store

drew C

1

Eileen H

June 4, 2018

Very happy with this Retro Record player. The records sound great as do CD's and radio - Verified Store

Eileen H

5

heather

May 21, 2018

The sound quality is so bad that it is unlistenable.
Even low-fi records sound terrible.
The top volume would be a 3-4 on any other product.
Controls are difficult to read.

It is a very attractive piece and looks great in the room but unfortunately it is useless. - Verified Store

See all reviews

heather

2