Overview
Signature™ Music System
Backed by over 100 years of manufacturing high fidelity audio products, Electrohome has paired the design of vintage record players with the technology of modern music systems. Music enthusiasts and casual listeners alike will enjoy an amazing audio journey with the Signature Retro Music System from Electrohome.

Enjoy your Entire Music Collection
Most people have music that lives in more than one place. Whether it's the warm tones of your favorite vinyl, AM/FM radio, MP3 music from your USB drive, CD, or listening to your smartphone music through the 3.5mm auxiliary input, the Signature Record Player offers a variety of ways to listen to music. The fully automatic belt-driven turntable spins 7, 10 and 12-inch records at three speeds of 331/3, 45 and 78 revolutions per minute, so you can rest assured knowing that your – and your dads - entire vinyl library can be enjoyed.

Top-Notch Craftsmanship & Premium Audio Components Result in Superior Sound Performance
Each cabinet is handcrafted with real wood and a rich walnut finish. Premium audio components such as the conical-shaped sapphire needle and tuned acoustic speaker chambers inside the unit give the Signature Music System room filling sound that creates a warm and crisp listening experience. With the natural sound of vinyl, and four high-performance speakers, you'll hear details that you've never heard before.

Record Vinyl-to-MP3 Easily
This versatile system lets you record your favorite vinyl music so that you can listen to it on other music players. With a built-in MP3 encoder it will convert and transfer your vinyl albums to a USB storage device in MP3 format without the use of a computer.

Classic Design
The old-fashioned look will match any décor and make a great addition to any home. Fine details like the amber lighting on the analog tuning dial, rotary control knob and antiqued patina faceplate personifies a truly classic system.
Specifications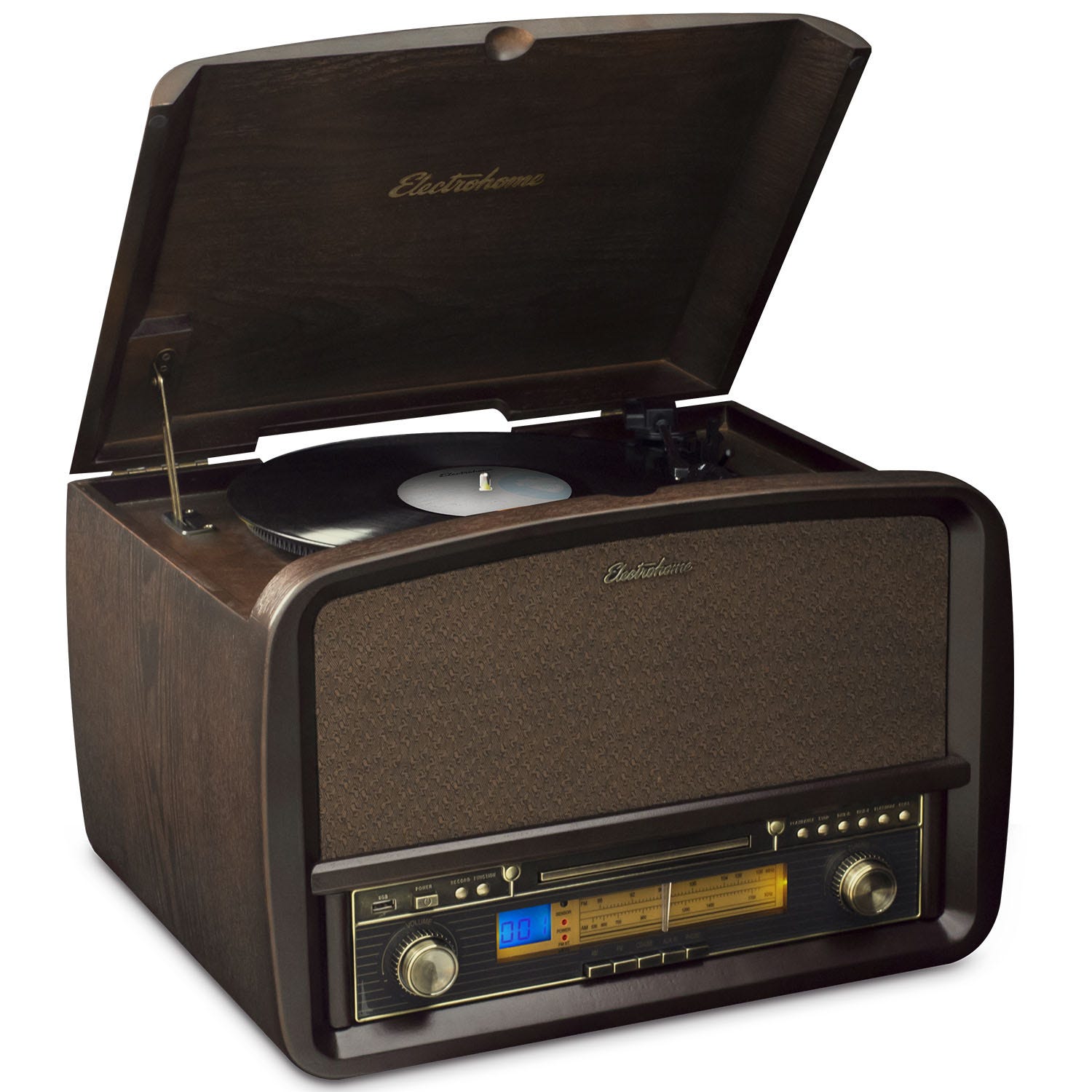 Unit Color
Walnut
Finish
Real Wood Veneer
Construction Material
Mainly MDF (medium density fiberboard)
Record Speeds
33, 45, 78
Record Auto Return Arm Adjustment
Yes
Frequency Range (FM)
88-108 mHz
Frequency Range (AM)
530-1710 kHz
Speaker Size
2x 5W 8 Ohms(2.6") 2x15W 8 Ohms (3.6")
Amplifier Power
50 Watts
Power EPS
Internal Power Supply
Power Consumption
50 Watts
Dimensions
17.9" x 13.5" x 12.1"
Unit Weight
26.01 lbs
UPC
871363021687
What's Included
Signature Retro Music System
Remote Control
45 Record Adapter
Instruction Manual
1 Year Warranty
Lifetime Customer Support
Customer Reviews
Jane D

August 29, 2019

Illinois, United States

What a beautiful record player!!!! Has the look of an old time radio but with modern features. Love it!!! Very heavy, not some cheap lightweight item. So fun to play my old albums and reminisce. Easy to get ready to play records. CD player has excellent sound. Great quality item.

Jane D

5

Fred Carbajal

July 19, 2019

New Mexico, United States

I received an electrohome cd recorder phonograph system for fathers day last year and have only used a few times and now cd player doesn't work..won't even open. I feel really bad that my daughter spent her hard earned money on such a disappointing product.

Fred Carbajal

2

Marc K

June 20, 2019

Georgia, United States

Sound could be fuller, added speakers

Marc K

4

John B

March 13, 2019

Ontario, Canada

Radio stopped working after dial touched and static electrical charge
occurred. Very unhappy with Electrohome and with Walmart as this
Type of failure should not happen.

John B

1

Geri R

March 1, 2019

Wisconsin, United States

Nice and solid, like a small piece of furniture. The turntable seems a little light weight and plasticky, but I figure as long as I keep the records clean, and replace the stylus as needed, it will be fine. I have played only one record on it so far, and it was satisfactory. The radio and CD system sound good. I had a component system back in the 80s, and it is not fair to compare this to a component system. For me, it is beautiful to look at, and for casual use, decent to listen to. So far, I love it!

Geri R

4

Thomas B.

January 9, 2019

Michigan, United States

Had a few minor issues that were promptly responded to by customer support. Response to my issues were handled swiftly and politely. A replacement was shipped to us in an expeditious manner without question. Tried the new player and it functioned perfectly as the reviews I had read had said. Glad to have done business with this company. Great product. Don't look any further. This is the real deal!

Thomas B.

5

Albert H

January 2, 2019

Florida, United States

This thing is awesome! First record player I've ever owned and I hope it's the last. Love the classic look and the quality sound. Would definitely recommend to anyone!

Albert H

5

Jackie K.

November 15, 2018

Pennsylvania, United States

I am truly pleased with the overall look and performance of our record player. Rich sound and beautiful cabinet. The only comment I would make is that the function buttons are somewhat hard to see, but that is not a big problem.

Jackie K.

5

Judy

November 2, 2018

Massachusetts, United States

Love it until one day radio just stopped working. No sound at all!

Judy

1

Martha

October 27, 2018

Florida, United States

The record players is great. The sound is terrific. I love all the speakers. Like probably everyone else, I wanted an all in one record player with good sound - and it surpassed my expectations. I finally got around to trying the CD player, and it looks like is says NOd, it can't find or read the CD. Will contact customer support soon. I really don't want to part with the record player to get the CD player corrected. I haven't tried the USB port, I hope that works.

Martha

4

Paul R

September 13, 2018

California, United States

I have really been enjoying this record player! Haven't used all the features yet, like recording to USB (but plan to..). Everyone I have shown it loves the styling. It feels like an audio time machine, from old 78 rpm records from the 1940s, to the 1990s with my CD collection.

Paul R

5

PBlas

July 15, 2018

Simply amazing! The quality the sound the looks the wood. Everything about the record player is awesome. I have had tons of compliments on it. I bought it new on Amazon about 2 or 3 years ago. I did a lot of research and it paid off. I love this player. It has a radio and CD player too but mainly use it to player albums. It is bassy and fills up a large room or two. - Verified Store

PBlas

5

Ethan S

July 4, 2018

I really like this player. The sound level and quality is more than adequate to fill a room. Recording vinyl to USB is fine but it picks up all the imperfections in the record. You'll have to use Audacity or a similar program to clean up the recordings. - Verified Store

Ethan S

5

Stephanie

July 3, 2018

CD player & radio sound pretty good. Record player could be improved but over all it's pretty good. If you want excellent buy good speakers! - Verified Store

Stephanie

4

Amazon Customer

July 2, 2018

tres bon - Verified Store

See all reviews

Amazon Customer

5