Overview

Exceptional Sound
Sound like a star with this professional omnidirectional microphone. The wide frequency response ensures crisp, clear sound with little distortion. So hit those high notes with confidence.
Compatible with Any Karaoke System
The Professional Dynamic Karaoke Microphone is perfect for an impromptu duet! The microphone adapter ensures compatibility with any karaoke system, converting from 6.3mm (0.25 inches) to 3.5mm (0.14 inches). So take your microphone on the road to ensure your star quality for each and every performance.
Classic and Professional Design
To feel like a pro you need to look like a pro. With our classically-designed microphone you'll be looking the part. The rest is up to you!
10-foot cord
Want to add a few dance moves to your show? Our microphone has a 10-foot cord to allow for better stage coverage. So go ahead and bust a move.
Specifications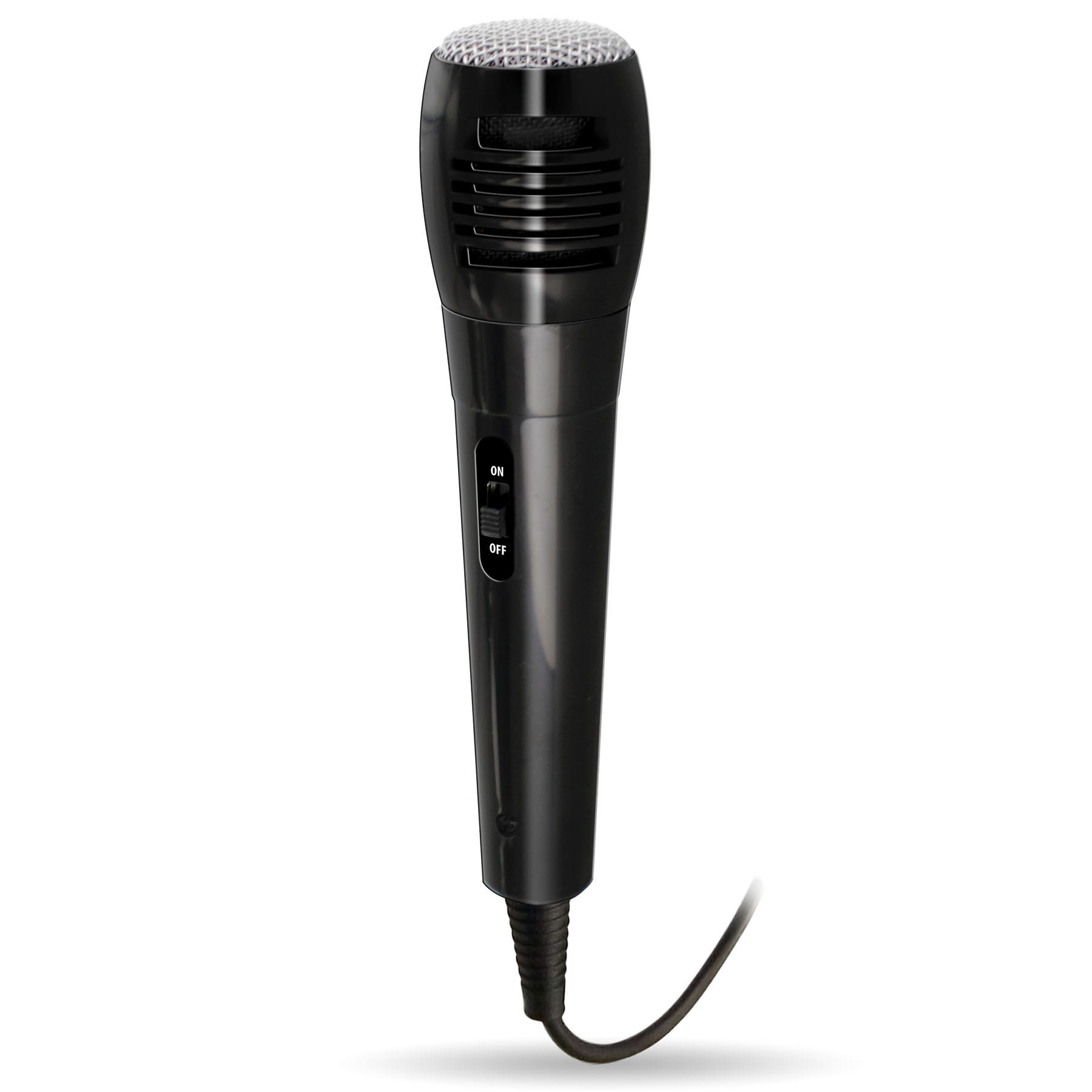 Unit Color
Black
Finish
Plastic Injection
Master Volume
No
Echo Control
No
Balance Control
No
UPC
871363017284
What's Included
Dynamic Microphone with 10ft Cord
6.3mm (1/4") to 3.5mm (mini) Microphone Adapter
Instruction Manual
1 Year Manufacturer's Direct Warranty
Customer Reviews
Lisa c

March 22, 2018

As I said about the karaoke machine the extra microphone I bought for holiday fun was such a waste of my my kids That are super smart with computers and iPhones etc. were just amazed how horrible this was no one should buy this product - Verified Store

Lisa c

1

Chelsea

January 1, 2018

Works perfect with the Electrohome Eakarmaic Karaoke machine. - Verified Store

Chelsea

5

John M

December 28, 2017

Not a lot of volume compared to my other mic - Verified Store

John M

2

elise

December 21, 2017

Grandkids loved it. - Verified Store

elise

5

Judy

June 21, 2017

Not the best - Verified Store

Judy

3

Francis

April 3, 2017

I bought this item with an Electrohome Karaoke Machine. I returned both items together and am now being recharged for this one item because it was 'not received.' This seems unlikely since I sent the two items back in the same box. I returned them because they are outdated and not compatible with new TV equipment. I can find no way to reply back to the seller. I received this email message: 'This email was sent from a notification-only address that cannot accept incoming email. Please do not reply to this message.' Very frustrating. - Verified Store

Francis

1

Ivan V

January 20, 2017

Very nice. - Verified Store

Ivan V

4

composer_dzh

January 12, 2017

I use it. I like it. - Verified Store

composer_dzh

5

Amazon Customer

November 29, 2016

Gift to give for extra mic to karoke, they loved it! - Verified Store

Amazon Customer

5