 Electrohome Montrose Record Player Stereo System with 4'' McKinley Bluetooth Powered Bookshelf Speakers
2-Speed Belt-Drive Turntable with Diamond Stylus, Auto-Stop, Built-in Preamp (RR35EB30)
Electrohome Montrose Record Player Stereo System with 4'' McKinley Bluetooth Powered Bookshelf Speakers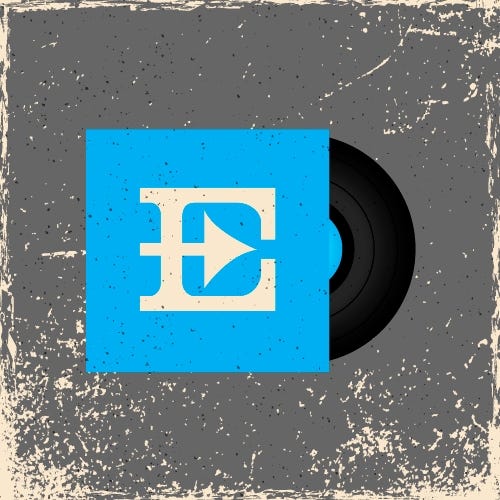 EXPERIENCE THE JOY OF PURE ANALOG MUSIC
Immerse yourself in the room-filling vinyl listening experience of this retro record player stereo system with McKinley Powered Bookshelf Speakers that offer faithful sound reproduction of the original recording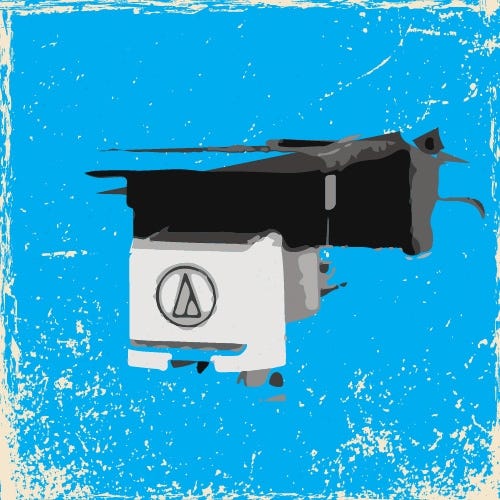 ENGINEERED FOR VINYL ENTHUSIASTS
Designed for exceptional sound quality and performance with a premium Audio-Technica diamond-tipped stylus, tonearm assembly separate from the anti-resonant platter to reduce vibrations, automatic speed control motor for precise playback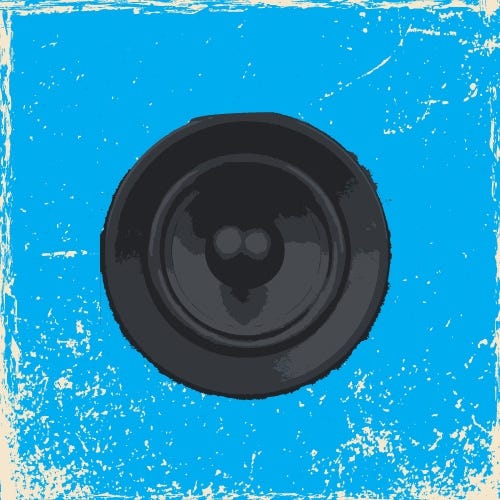 RICH ROOM-FILLING STEREO SOUND
Utilizing high performing components including a class D built-in amplifier, 1" silk soft dome tweeters, 4" woofers and optimized crossover techniques for high performing, undistorted playback with deep and natural bass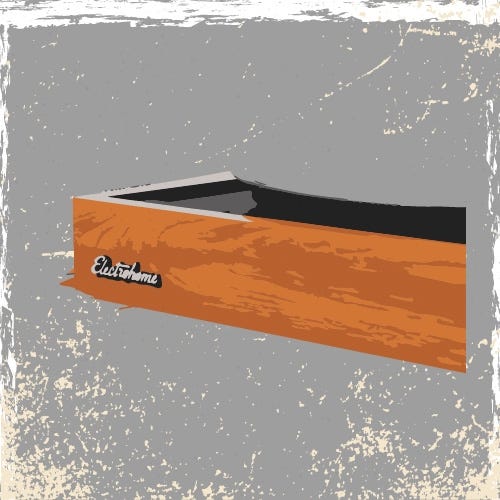 RETRO HANDCRAFTED WOOD
Featuring a gorgeous vintage inspired design expertly developed to produce a warm, resonance-free sound that breathes life into your music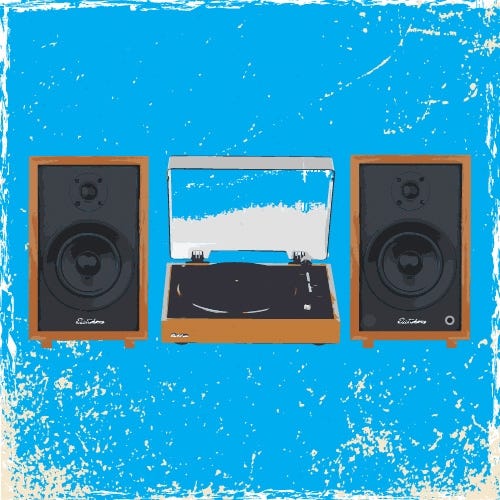 PLUG & PLAY SETUP
Unbox, connect, relax. The pre-installed cartridge and built-in preamp allows you to simply connect your system and transport into music listening bliss
Overview
Specifications
Montrose Vinyl Record Player
Unit Color
Teak
Construction Material
MDF
Motor
DC Motor Speed Optically Monitored 60 times/sec
Cartridge
Audio-Technica AT3600L Moving Magnet Diamond-Tipped Conical
Replacement Stylus
ATN3600L
Record Speeds
33 1/3 RPM, 45 RPM (78 RPM - No)
Platter
Anti-Resonant Plastic
Auto Return
No
Auto Stop
Yes
Bluetooth
No
USB Charging
No
USB Recording
No
Track Splitting
No
Headphone Jack
No
Built-in Preamp
Yes, On/Off Switchable
Output Line Level
250 +/- 50mV
Output Phono Level
4.2mV
Vertical Tracking Angle
24° (Non-Adjustable)
Supported Cartridge Weight
0.12 - 0.18 oz (3.5 - 5 g)
Recommended Tracking Force
0.12 oz (3.5 g +/- 0.5 g)
Power Input
100V - 240V AC (50/60Hz)
Power Adapter Output
12.0V 600mA
Power Consumption
5W
Dimensions
4.8 x 15.75 x 12.68 inches / 12.19 x 40 x 32.21 cm (HxWxD)
Unit Weight
7.23 lbs (3.28 kg)
Certifications
ICES, FCC Certified
UPC
061783273616
What's Included
Montrose Record Player with Dust Cover (RR35)
Audio Technica AT3600L (Pre-installed)
Felt Turntable Mat
Counterweight
45 RPM Adapter
5ft 100V - 240V (50/60Hz) AC Power Adapter
4ft RCA Cable with Ground Wire
User Manual
Lifetime Customer Support
1 Year Manufacturer's Warranty
McKinley 2.0 Stereo Powered Bookshelf Speakers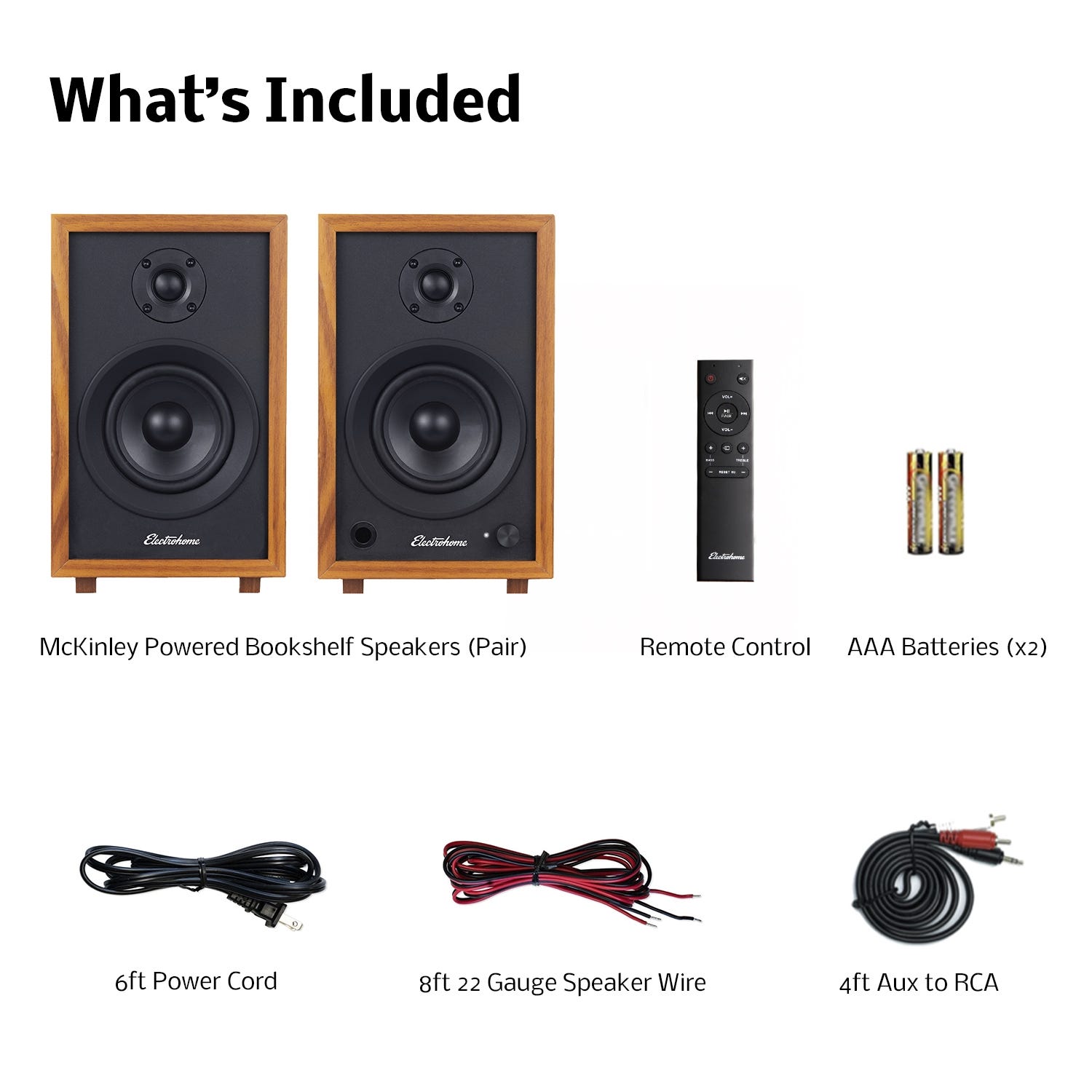 Unit Color
Teak
Speaker Configuration
2 Way – 2 Driver Bookshelf Speaker System with Integrated Amplifier (Pair)
Cabinet Material
MDF (Medium Density Fiberboard)
Enclosure
Tuned Rear Port Bass Reflex Design
Tweeter
1 inch Silk Soft Dome
Woofer
4 inch Polypropylene Woofer with Butyl Rubber Surrounds
Amplifier Power
Class D 30 Watts Continuous Average Output (2x 15 watts RMS)
Frequency Response
65Hz - 20KHz (+/-9dB)
Crossover Frequency
3500Hz
Bluetooth
Yes, Bluetooth 5.0
WiFi Casting
Pairs via Bluetooth with Google Home, Amazon Echo, and AppleTV (EB30 is not a WiFi speaker)
Inputs
RCA L/R, Bluetooth, & 3.5mm Aux In
Subwoofer Output
No
Phono Preamp
No
Power
Input: 120V 60Hz
Dimensions
10.4 x 6.5 x 7.6 inches / 26.42 x 16.5 x 19.4 cm (HxWxD)
Speaker Weight
Active Speaker: 5.96 lbs (2.70 kg)
Passive Speaker: 5.74 lbs (2.60 kg)
Certifications
ICES, FCC Certified, ETL/CETL
UPC
061783272046
What's Included

EB30 Powered Bookshelf Speakers (pair)
Remote Control
2x AAA Batteries
6ft Power Cord
8ft 22 Gauge Speaker Wire
4ft Aux to RCA Cable
Quick Start Guide
Lifetime Customer Support
1 Year Manufacturer's Warranty
Resources
Guides
Manual
FAQs
Can I use these speakers with a record player?

Yes! Electrohome McKinley speakers are fully compatible with record players such as the Electrohome Kingston and Electrohome Montrose.


Is everything I need to listen to records included?

Yes! This set is everything you need to enjoy your vinyl record collection!


What is the preamp for, can it power my speakers?

A preamp boosts the low volume phono signal from the turntable, bringing it to line level. This allows you to connect it to RCA inputs or with a 3.5mm AUX connection. It will not power speakers that require an amplifier.


Does this turntable have a 78 RPM option?

No. Electrohome Montrose Record Players do not have a 78RPM option. However, our Kingston All-In-One model can play your 78 RPM records!


Can I connect this turntable directly to my speakers?

If you have speakers that are powered by a built-in amplifier like the Electrohome McKinley Powered Bookshelf Speakers you can connect directly to the speakers using the RCA connections. If you have speakers that are not powered, you will need to connect it to the external amplifier or A/V receiver.


Can I connect a subwoofer to these speakers?

No. The speakers do not have a SUB OUT connection which is required to connect a subwoofer.


Can I use these speakers for surround sound?

No. Electrohome McKinley speakers have their own built-in amplifier to power them and they cannot be connected to additional speakers or an A/V receiver


Can I connect these speakers to my TV?

If your TV has a 3.5mm or RCA audio output, you can connect these speakers to the TV.


Articles from our experts