Overview
Time travel is possible – all you have to do is plug in your Kinsman™!
Immerse yourself in the glory days of rock'n'roll one more time by playing all your favorite songs the way they were meant to be heard with the Electrohome® Kinsman™ – capturing all the aesthetic charm of the 1950s in a jukebox of your very own. Let this iconic slice of Americana take you back to the days when all you needed for a good time was a few nickels and your steady.
Happy days are here again
The timeless style of the 50s jukebox meets twenty-first century comfort: play songs from CDs, USB/SD drives and even your smartphone, tablet or MP3 player (with USB charging support and AUX input). Imagine the crisp highs of a twelve-string acoustic guitar and the warm low 'boom' of a kick drum pulsating through four high performance speakers; analog production values have never sounded better coming out of an all wood, retro-styled cabinet.
Here comes the sun
Bask in the neon glow of a simpler time with full spectrum, remote controlled light effects. From a hip retro kitchen to Dad's legendary man cave, the Kinsman™ brings the charming ambience and warmth of a neighborhood diner or pub to any surrounding. Its retro chic doesn't end there: the gorgeous wood cabinet, authentic ornamentation and chrome accents perfectly compliment the iridescence and make the Kinsman™ a remarkable furnishing sure to get the conversation started…
… while continuing the tradition of impeccably crafted audio products that have distinguished the Electrohome® name since 1907.
Specifications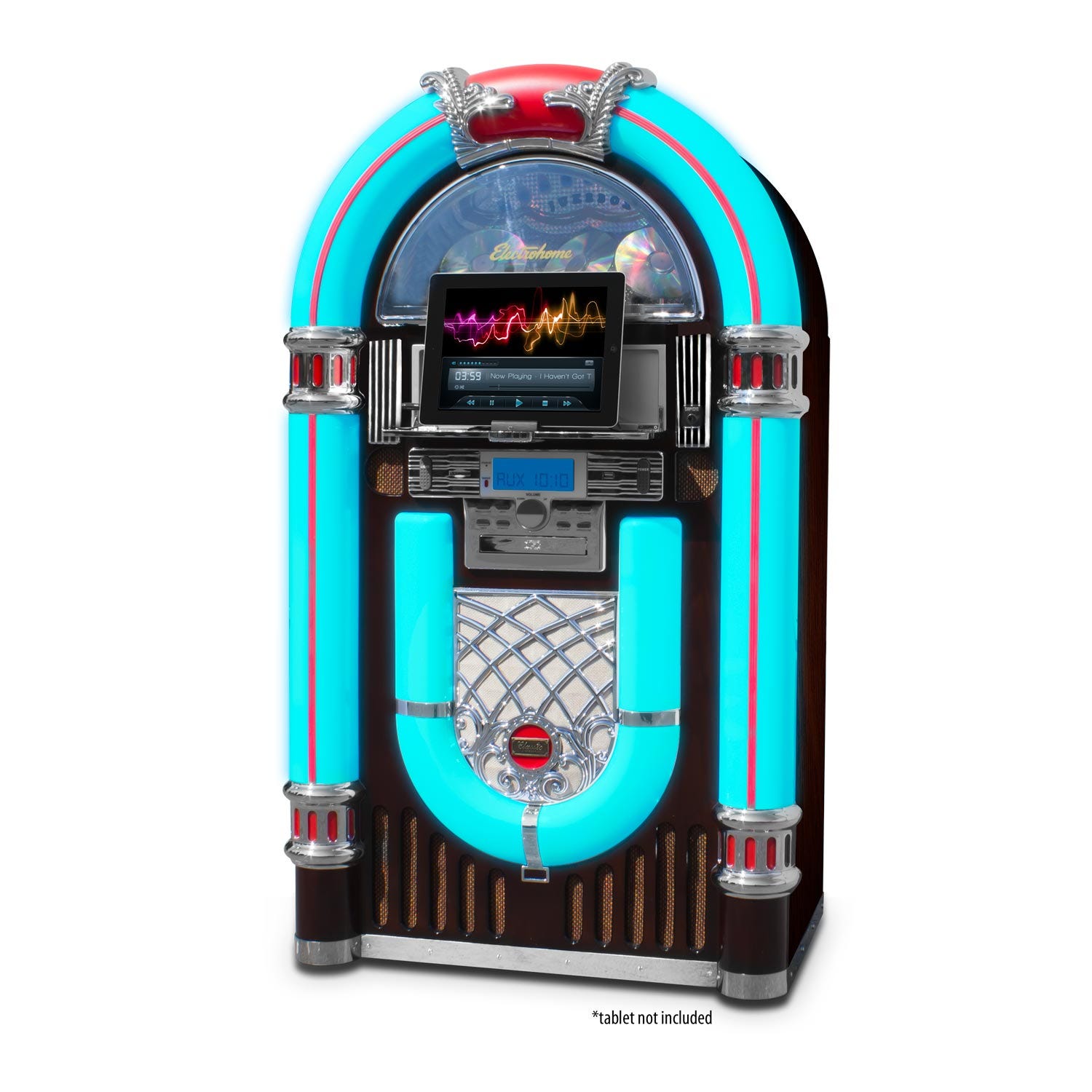 | | |
| --- | --- |
| Unit Color | Mahogany |
| Finish | Real Wood Veneer |
| Construction Material | Mainly MDF (medium density fiberboard) |
| Frequency Range (FM) | 88-108 mHz |
| Frequency Range (AM) | n/a |
| USB Recording | Yes |
| Speaker Size | 2x 20W 8 Ohms, 2x40W 4 Ohms |
| Power EPS | Internal Power Supply |
| Power Consumption | - |
| Unit Weight | 85.1 lbs |
| Certifications | ICES, FCC Certified, CUL/UL, ETL/CETL |
| UPC | 871363022448 |
Customer Reviews
Turtle "Steve Elsley"

August 17, 2015

Shipped in timely matter , very nice addition , I highly recommend getting CD cabinet ,it raises it up and looks complete (I did) . I had small issue but Jeff and Julie at CWD where outstanding in resolving it "things happen " great folks ! It plays everything as mentioned in specs although I mostly stream Pandora thru it . It does have casters at bottom (great for moving it around ) which is not mentioned in specs if you buy extra base they simply fit in slots cut into base. The sound is average quality more than enough for home use thro ,FM receiver is a little limp on reception .The lights are really great ! All in all I,m very happy with the Kinsman and CWD (seller) it has met my expectations as why I made the purchase . Im sure it will give me years of pleasure
<i>Verified purchase from Electrohome trusted store</i>.

Turtle "Steve Elsley"

5

Pokemom

August 17, 2015

Best bet for the money. Item was well packed and shipped fast. This Jukebox has excellent sound and is top quality. Radio plays clear and static free. The lighting system is awesome. If you have questions before buying you can call the seller - they are VERY helpful. This was a gift for my husband as we now enjoy it as a family. All around excellent !!!!!!!!!!!!!
<i>Verified purchase from Electrohome trusted store</i>.

Pokemom

5

Major B Parkin

August 17, 2015

The pictures on the advert were very misleading. We expected the upper section to light up and display the "squiggly coloured lines as seen on the picture oppisite. We are extremely disappointed.
<i>Verified purchase from Electrohome trusted store</i>.

Major B Parkin

5

Stacey Oliea

August 17, 2015

Expectations met
<i>Verified purchase from Electrohome trusted store</i>.

Stacey Oliea

4

Linda k hinds

August 17, 2015

Product seems to be fine so far. we have only used the cd and radio but we are pleased with the sound. Wish you had a stand.
<i>Verified purchase from Electrohome trusted store</i>.

Linda k hinds

5

Pokey Jo

August 17, 2015

I am SUPER happy with this jukebox! The sound and the look are spot on and it's very easy to use. Those who have been over have enjoyed it as well. I would recommend purchasing the stand to give it that extra height.
<i>Verified purchase from Electrohome trusted store</i>.

Pokey Jo

5

Miriam Guerra

August 17, 2015

The first jukebox we received was defective and we had to send it back. The second one won't play CD's that I've burned myself and the door keeps opening and closing before finally playing professional CD's. To date we cannot get our IPods to play and once again we're having to contact customer support. Very poor product.
<i>Verified purchase from Electrohome trusted store</i>.

Miriam Guerra

5

Patrick A. Curran

August 17, 2015

I don't think the word "jukebox" should be used to describe this item. By definition, a jukebox is a partially automated music-playing device, that will play a one's selection from self-contained media. Those last three words -- self-contained media -- are the key to the definition. Since this device has no self-contained media, meaning that the user must either insert a CD into the front-loading tray, or connect some other source of music to it, this is really nothing more than an oversized CD player, or a speaker system for an iPod, with a radio tuner thrown in. It might perform those functions very well, but that doesn't make it a jukebox, so please don't call it a jukebox.
<i>Verified purchase from Electrohome trusted store</i>.

Patrick A. Curran

5

Robert j Basso

August 17, 2015

Sound quality is horrible. Nice looking piece but not great to listen to. I am considering changing out the speaker and adding an amplifier.
<i>Verified purchase from Electrohome trusted store</i>.

Robert j Basso

5

Sheree Lantz

August 17, 2015

Fun! I purchased this for a 50's fundraiser we are having. It will be a nice addition. It is a little cheaply made but looks good.
<i>Verified purchase from Electrohome trusted store</i>.

Sheree Lantz

5

Pigpen

August 17, 2015

Lovely sound quality, fantastic look! Better than I expected for the price!!! I received the shipment before the promise date. Very pleased with the jukebox.
<i>Verified purchase from Electrohome trusted store</i>.

Pigpen

5

Miguel Ramos

August 17, 2015

Arrived in great fashion and on time. Sounds great and is very versatile since we are able to use our IPad on this as well. We are using it for our restaurant and the customers love it.
<i>Verified purchase from Electrohome trusted store</i>.

Miguel Ramos

5

Bill Richel

August 17, 2015

Jukebox broke after 45-60 days of owning it and customer service is a nightmare they want me to Pay for a random repair man from 2 hrs away from me to come repair my Brand New $1000.00 jukebox DoNot Buy This Brand if you have problem your pretty much stuck with it
<i>Verified purchase from Electrohome trusted store</i>.

Bill Richel

5

diane haycraft

August 17, 2015

Disappointed....I expected a Jukebox and what I received was an oversized radio and then it didn't even work. Lights came on but no power to the actual radio.
<i>Verified purchase from Electrohome trusted store</i>.

diane haycraft

4

diane haycraft

August 17, 2015

Received this item and worked beautifully until ready to take the CD out. Button on CD would not work neither by pushing nor the remote. Contacting Amazon and am currently in negotiations as to how to handle the problem. At this point it looks like the leg work will mostly be done by me. However Amazon has been very timely with response. Looks to be a wiring problem. Under the warranty shipping for repair or return is not covered. Have been advised to contact a repair person, as if I know one for this particular item, so once again, I as in I will have to do the work. However they assure me I will be reimbursed for this cost. Also noticed that they have dropped the price $100.00 since I have bought this item. HHMMM imagine that....The saga continues.....
<i>Verified purchase from Electrohome trusted store</i>.

See all reviews

diane haycraft

5