Overview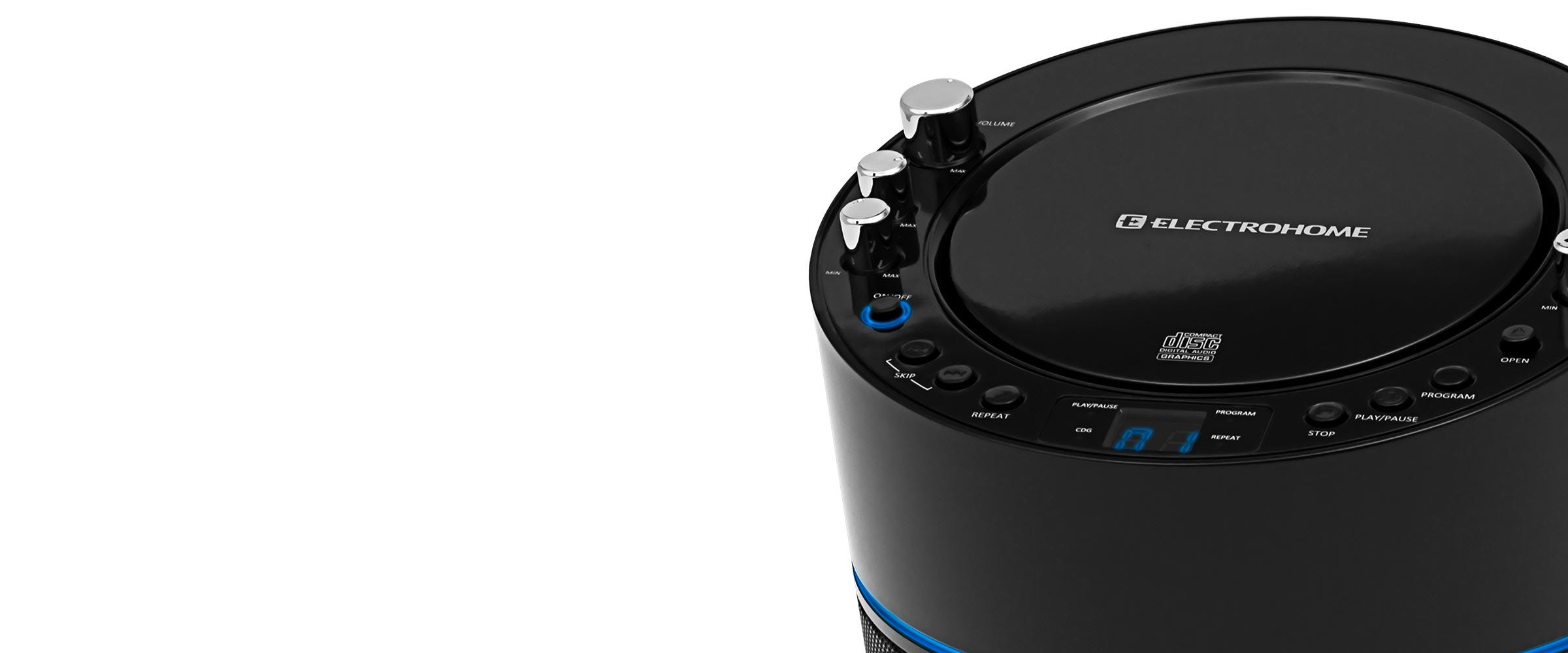 Karaoke Machine Speaker System
Electrohome brings you a stylish Karaoke Speaker System with high quality sound and an electrifying blue party light, all you need is a TV to display the lyrics on-screen. Like to sing, but don't have a big library of CD+G music? We've solved that. The ability to connect your smartphone or tablet through the 3.5mm auxiliary input puts literally thousands of high-quality online karaoke songs at your fingertips. Use it at home or take it on a tour to friends and neighbors' homes – the possibilities are endless.
Sing a Duet with a Friend
You can be the host who throws parties that people will never forget when you add an additional mic into the mix. Singing in groups of two or more adds even more fun (additional mic sold separately).
Digital Echo Control – The Karaoke Singer's Secret Weapon
With just the turn of a knob you can become a superstar! Have you ever wondered how your favorite artist gets that rich, full tone sound in their performance? The secret is the Digital Echo Control which lends a reverberation through the mic making your voice sound confident and more professional.
Auto Voice Control Can Help You Learn That Tune
One feature you'll love is the AVC Singing Coach. If you ever forget the lyrics, need a breath, or have to stop singing in the middle of your performance, this innovative feature will sense that your singing has tapered off and will fill in the words from prerecorded vocals.
Karaoke Disc with Popular Hits Included
Even if this is your first karaoke machine, the included disc will give you a catalogue of popular songs to choose from for hours of karaoke entertainment.
Specifications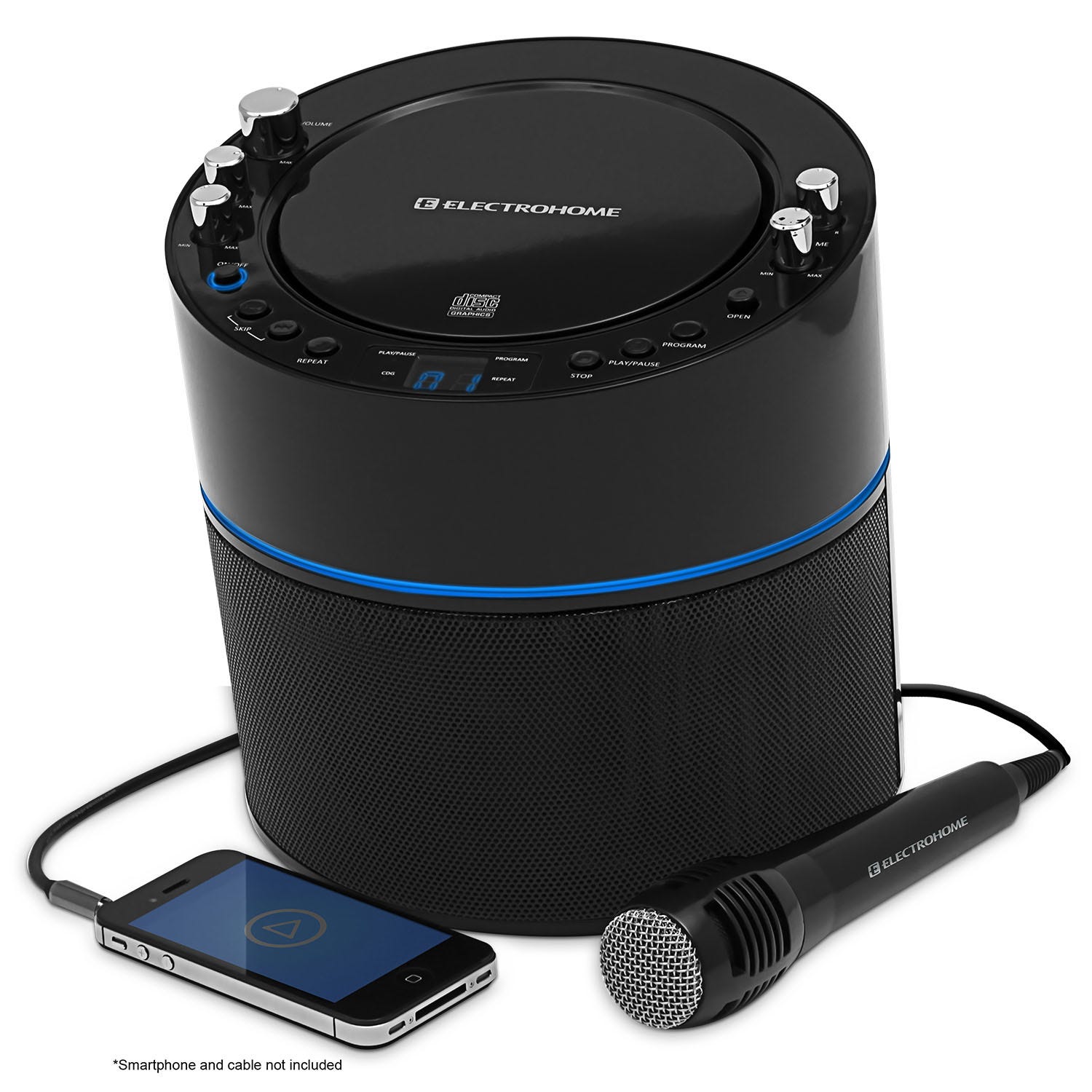 Unit Color
Black
Finish
Plastic Injection, with Blue Light effect
Master Volume
Yes
Echo Control
Yes
Balance Control
Yes
Auto Voice Control
Yes
CD Control
Yes
Microphone Volume Control
Yes
Repeat
Yes
Inputs
2 x 6.3mm microphone, 1 x Aux
Program Tracks
Yes
Power Source
AC 120V, 60Hz
Demo Disc
5 songs – CD+G
Length of cable (mic)
10 ft
Speaker Size
1 x 3W 8Ohm
RCA Cable
L/R Audio input/output, video input/out
Power Consumption
12W
Dimensions
14"x10.6"x12.5"
Unit Weight
7.21
Certifications
ICES, FCC Certified, CUL/UL, ETL/CETL
UPC
871363017253
What's Included
Karaoke CD+G Player Speaker System
Dynamic Microphone (10ft cord, %C2%BC inch plug)
CD+G Multiplex Karaoke Disc with Music from Various Artists
RCA Audio/Video Composite Connection Cable
Instruction Manual
1 Year Warranty
Lifetime Customer Support
Customer Reviews
RoyT M

June 28, 2018

ok - Verified Store

RoyT M

2

Jeff G

June 21, 2018

Kids love it - Verified Store

Jeff G

5

Ronald S

May 11, 2018

not so bad as others state. you get what you pay for. lots of party fun an laughs
for small price. buy another cheap microphone and do duets. - Verified Store

Ronald S

4

Jlsheaven

April 22, 2018

Was way more then what I expected.....love it - Verified Store

Jlsheaven

5

Lisa c

March 22, 2018

Thought I would have so much fun with my daughter that sang in choir all through high school went to American Idol etc. we tried to use this machine for the holidays it was absolutely horrible I don't recommend anybody purchase this item !!!! - Verified Store

Lisa c

1

Sharpe l

March 6, 2018

Don't buy it ! Cheap and not for a Hall. Ok if you want to do it at home with a few friends - Verified Store

Sharpe l

1

Amazon Customer

March 2, 2018

With this product I got a few good uses out of it before it completely broke. It really was a good product before though! The CD opening at the top I physically could not close it. I tried plugging my own microphone into the input and still nothing happened. The microphone I know works I used it for other karaoke machines.I eventually fixed the CD input although that was not the reason I got this. I needed it for singing. I am going to return it. - Verified Store

Amazon Customer

3

Amazon Customer

March 2, 2018

With this product I got a few good uses out of it before it completely broke. It really was a good product before though! The CD opening at the top I physically could not close it. I tried plugging my own microphone into the input and still nothing happened. The microphone I know works I used it for other karaoke machines.I eventually fixed the CD input although that was not the reason I got this. I needed it for singing. I am going to return it. - Verified Store

Amazon Customer

3

Cynthia

February 22, 2018

Got this on sale for $30. Worth that but not much more. - Verified Store

Cynthia

3

G. S

February 22, 2018

I don't have to sing in the shower anymore.....this little karaoke machine is loud enough echoes and can play my own cds well - Verified Store

G. S

5

Carmen C

February 12, 2018

This was a gift for my nieces and they absolutely loved it. I purchased a couple of the Disney song CDs and it was the perfect gift that they both enjoy. Considering buying one for myself as well =) - Verified Store

Carmen C

5

Scarlett P

February 9, 2018

There's hardly any volume. Didn't work at all. Such a waste of money. I'm a singer/musician/music teacher and this was a horrible purchase. - Verified Store

Scarlett P

1

florenda

February 8, 2018

It's been a blast - Verified Store

florenda

5

Kindle C

February 8, 2018

Good quality very sturdy - Verified Store

Kindle C

5

Paul D

February 3, 2018

We gave this to our granddaughter for Christmas
and she loved it. - Verified Store

See all reviews

Paul D

5