Overview
Electrohome brings you a Karaoke System that truly does it all. Sing like a professional with this all-in-one handheld microphone. Simply plug the microphone into your TV and DVD player for instant karaoke fun.
All in One Karaoke Microphone System for Ultra Compatibility and Maximum Fun
Now any DVD Player can be a Karaoke System. This all-in-one handheld microphone is perfect for at home and taking with you to parties. All you need is a TV to display on screen lyrics and a DVD player for your karaoke DVD disc. Simply plug the microphone into your TV and any DVD player or XBOX®, XBOX360®, PS2®, PS3® video game system and enjoy hours of sing along fun.
Digital Echo Control – The Karaoke Singer's Secret Weapon
Just how does that other singer get that rich, full tone in their performance? The secret is the Digital Echo Control feature which lends a vibration through the mic making your singing sound smooth, confident and more professional. By simply adjusting the Echo Control setting you too can achieve the same vocal quality you have always admired.
Karaoke Disc with Music from Various Artists Included
Sing along with music in the style of your favorite top 40 artists like Lady Gaga and Justin Bieber right away! This system includes a Karaoke DVD with 30 songs so even if this is your first karaoke machine you will already have a catalogue of popular songs for your family and friends to chose from. This system is also compatible with any DVD karaoke disc.
Two Microphone Inputs for Duets Make the Party Even Better
Everyone knows that once the karaoke party warms up there is no stopping the need for more microphones! A second microphone input is a favorite feature of a great karaoke system. Singing in groups of two or more adds to the entertainment value with a second microphone (sold separately).The Electrohome All-in-One Handheld Karaoke Microphone System is a family party favorite.
Specifications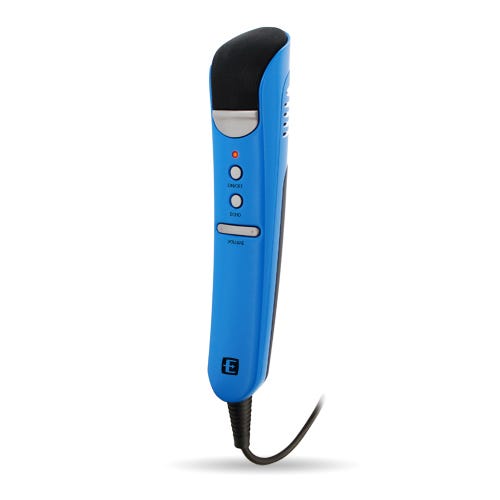 Unit Color
Blue
Finish
Plastic Injection
Master Volume
Yes
Echo Control
Yes
Demo Disc
30 songs - DVD
Connection - Hardwired Inputs
L/R Audio, Video, 1 permanent microphone + 1 x 6.3mm microphone input
Connection - Hardwired Outputs
L/R Audio, Video
Audio Cables
All connected to mic
Balance Control
No
Video Cables
All connected to mic
Dimensions
3.07" x 12.13" x 7.87"
Unit Weight
1.1 lbs
UPC
871363017246
What's Included
All-in-one dynamic microphone system
DVD karaoke disc with music from various artists
RCA cable for TV input & DVD output
2 x "AA" batteries
instruction manual
lifetime live customer support
1 year manufacturer's direct warranty.